I've done exactly two Live-Aboards, The AquaCat, and the Cayman Aggressor. I'll just say this right up front, the AquaCat has better T-Shirts.  🙂 This post isn't a comparison of the two trips, though. I assume you have already made the decision to travel with the Cayman Aggressor. In this post, I want to share with you some things I wish someone had shared with me before I started my journey.
Getting There
Most readers are going to fly into Owen Roberts International Airport to get to the boat.
The Airport
If this is your first time flying into a small tropical airport, do yourself a favor, dress for where you are going, not where you are coming from. My first trip into an airport like Owen Roberts International was when I flew into Flamingo International in Bonaire. I was coming from Nashville, TN and it was chilly there. So I was dressed in a heavy T-Shirt and long black jeans. As soon as I stepped onto the tarmac – yes, you actually walk the tarmac to the terminal – I started sweating. I was miserable for a couple of hours till I got checked into my room and could change into shorts.
The line for Immigration is usually out the door at Owen Roberts International so you will be outside and then in barely air-conditioned rooms. If you aren't dressed for it, it's gonna suck. The good news is that this portion of your trip won't suck for long. On a holiday weekend, we moved through Immigration, retrieved our luggage, and were outside waiting for transportation in under thirty minutes.
Transportation
If you are traveling with a tour group, (we were with Island Hoppers Scuba and honestly, can't imagine having to do all of the setup myself. Rob Harris does an awesome job of it.) chances are good that they have arranged transportation for you from the airport to the dock. If not, any cab can take you there for ~$15.00 USD per van load.
If you do take a taxi, most of them know the Aggressor. However, if you get someone who does not, you want to go to the North Terminal of the Port. It's a 5-10 minute drive, depending on traffic.
For reference, the South Terminal is about 20 feet away from the North. It is kind of hard to get lost. 🙂
Killing Time, Island Style
Once you are there your next steps depend on what time it is. You can get on board the boat at 3:00 PM. If you arrive before that, let the crew know but they probably won't let you on board. Instead, they will point you to a covered pavilion about 10 feet away from the boat where you can stow your luggage. If you are there early enough, you will probably find the luggage from the departing divers. It is close enough so that the crew can keep an eye on it and you are free to go wander. Most of our group wandered across the street to Margaritaville for food and pre-trip libations. Sadly, the Lovely and Talented Kathy and I did not arrive in time to participate.
Load-In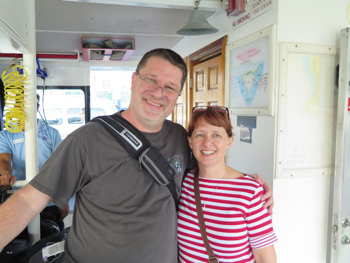 At 3:00 PM, you can start loading your luggage onboard and unpacking. You will have to unpack everything and return your luggage to the dive deck so they can cart it off to the office and store it for the week. This is very important, your luggage does not travel with you. If you forget something, it is gone for the week. Empty your dive bag, check all the pockets, then double check. You have room in your locker to store gear you may or may not want, but you can't have them pull your luggage from storage if you need something.
The same goes for your cabin. The cabins are small but there is a closet and under-the-bed storage for your clothes, etc. In most cases storage isn't going to be a problem unless you have a lot of toiletries. The sink area is very small. There is a built-in toothbrush holder and a small shelf for toothpaste, deodorant, etc. That's pretty much it. If you travel with a lot of toiletries, consider a Hanging Travel Toiletry Bag. The TV is mounted to the wall directly above the sink. The mounting is very secure and enough to handle the weight of a hanging toiletry bag.
Pay the Harbormaster
Once you have everything stored, the crew will usually offer to carry your luggage back up to the dive deck for you. (More on the crew later, for now, know that the crew will make or break your experience, and ours made it.)  It is now time to settle up on a few things. You have to pay a $45USD "Port Fee" for each passenger.
FOOD!
The Chef on our crew was Kingsly. As far as I am concerned, Kingsly is a god with food. Each meal was absolutely wonderful. Saturday night was BBQ pork ribs and chicken. It was a feast. If you left the table hungry, it was your own fault. Each meal was like that.
Breakfast
Breakfast is always served. There is cereal, lots of coffee, as well as toast and bagels. Additionally, Chef will make scrambled eggs, a breakfast meat, and usually a potato of some kind or pancakes. Regardless of what is on the menu, Chef is always willing to make you eggs to your liking.
Lunch
Lunches were usually a soup and then buffet. This is not to minimize the food served during lunch, it was every bit as awesome as the other meals. Because of the layout of the galley, things get a little cramped when lining up for food. Be patient, there is always plenty to go around.
Dinner
Dinner was a little more formal being plated and served by the crew. Note, formal dress is always defined as "diver formal". T-Shirts from other dive spots or liveaboards are appropriate. Barring that, T-Shirts with clever dive slogans will suffice.
As you like it
Chef will post the menu for the day every morning before breakfast, make sure you look it over each morning. The Lovely and Talented Kathy and I do not eat fish – we swim with the fishies, we don't eat them – so on days where Chef was preparing fish, we let him know and he always substituted chicken. He will also work around any food allergies you may have as long as you let him know. Be kind though and discuss any issues with the menu with Chef in the morning so he has time to prepare something different for you.
Eat, Drink, and Be Merry
The boat is stocked with cookies, pringles, nuts, fresh fruit, and other assorted snacks. They keep a hidden stash so that as the week goes on, they can restock. 🙂 It is not necessary to carry snacks on board unless you just really want to.
There is plenty of beer and wine on board. Wine is served with dinner every night and there are bottles available up on the upper deck for you at any time.  There is a soda dispenser on the upper deck (they RELLY need to clean the pipes out on it, every drink tastes like a Coke-a-Pepper) and there is always water, tea, and lemonade available in the galley. If you want spirits, you will need to bring them yourself. There is no real need to stuff a few bottles in your luggage, though, there are plenty of liquor store within a 2-3 minute walk from the boat. I do recommend that you skip the one right next to the North dock, though, it is small and usually about 10% more expensive than the ones just across the street.
Don't Drink and Dive
It is very important to know that your dive day ends when your bottle opens. We didn't have anyone challenge this but I am sure that the crew is very serious about this rule. You have to wait eight hours from the time of your last drink until you can suit up for your next dive.
My final word on the food is a recommendation for you. Check when you get on the boat to see if Kingsley is your Chef. If he is, you are in for a treat. I am sure the other chefs in the Aggressor fleet are good, but Kingsley did a wonderful job.
The Diving
The diving that you will do will depend on many factors. On our trip, the open water was too rough for us to cross over to Little Cayman so we spent most of the week diving the leeward side of Grand Cayman. The exact dive sites you visit will vary but there are 3 sites that they almost always go to.
The Kittiwake
Sunk as an artificial reef in 2010, the Kittiwake is a beautiful dive. We did 3 dives on it, ou 2 afternoons and our night dive. The Kittiwake is great if you like wrecks. If you don't like wrecks, there is still plenty of marine life to see.
I love wreck diving and the Kittiwake did not disappoint. It has a great swim through that is almost the entire length of the ship. You can also go up and down decks. If the visibility is good, you can see most of the wreck at once. It's breathtaking. If you have a camera right – whether you are a professional or you just have a GoPro, you will want to take it on this dive.
Stingray City
The wind finally died down enough for us to go North Sound and visit Stingray City. Note, this is not the sandbar that cruise ships take unwitting passengers to, this is the real one.This is only a 15′ dive and you are going to be sitting on the bottom watching and feeding the Stingrays. So go in heavy. Slip a couple extra 3lb weights into your BC just for this dive.
When you get down there, lay down or kneel on the bottom. Dig your hands into the sand and curl your fingers. This should anchor you sufficiently to be able to watch the festivities without having to constantly fight the current.
If you have a GoPro and want to record everything but don't want to worry with a camera while trying to stay anchored, try this. Get yourself one of these muck sticks from Reeds' Rods – make sure and get the one with the camera mount. Then get an AmazonBasics GoPro Tripod Mounts. When you get down to the bottom, drive the muck stick into the and to the hilt and then screw the GoPro onto it. Aim it, turn it on, and then dig into the sand behind it. Trust me, you can edit the 30 minutes of footage down into five good minutes to show your friends or post on Facebook. That is a lot better than trying to stay down, focus, stay stable, just to get 30 seconds of good footage. The entire experience is about 30 minutes. Since you are in 15′ of water, you've got air to say down for hours, so feel free to explore after the feeding is done.
 The Devil's Grotto
The final dive site you will dive will most likely be The Devil's Grotto. It is very close to the port, just south of where the cruise ships anchor. Pay very close attention to the dive briefing on this one. The swim-throughs make this dive but they are tricky to find. The crew may or may not dive with you on it and if you don't do the swim through, the dive itself it pretty damn boring. There is some life, but as a dive site, it's unremarkable, except for the swim through. The swim throughs are awesome. As much as I love the other dive sites, this may be my favorite dive of the entire week. It is a great way to end the week.
Nitrox
Before we move on from the topic of Diving, let's talk Nitrox. Our group was split, we had some diving Nitrox and some diving air. None of the dives were super deep and the Nitrox mix was between 30.5 and 32.8 all week. Nitrox won't get in your way if you like deep like I do – the deepest I went all week was 109′ – but if you are more comfortable diving air, or not certified for Nitrox, there is no great advantage in it either. I usually feel better when I come up after a Nitrox dive as opposed to diving air, but that is me personally. If you are diving Nitrox, If you are planning on diving Nitrox, it will be $100 per diver flat fee.
Another plug for traveling with Island Hoppers Scuba. Since Rob had filled all the cabins on the boat, he had negotiated free Nitrox for all who wanted it. He is awesome like that.
The Last Night
Assuming you are leaving on Saturday afternoon, you will get 2 dives on Friday. (See Devil's Grotto above) After that, it's time to rinse your gear, take it up on the top deck to hopefully dry, and then shower, change and eat lunch. Lunch is provided on the boat but it is your last regularly provided hot meal, so enjoy it. 🙂 After lunch, you are free to wander the town of Georgetown. The captain will have docked the boat after the last dive and you are free to come and go as you please. Whatever you do, make sure you are back onboard in time for the cocktail party. On the upper deck, the crew will lay out a spread and pour beer, wine, and soft drinks. It is a wonderful time to reminisce with fellow divers or get to know the crew that you've been traveling with for a week. While there is no formal dinner provided on Friday night, there was enough food at the party to satisfy most. However,
While there is no formal dinner provided on Friday night, there was enough food at the party to satisfy most. However, after the party, the awards presented by the crew, and a lot of the diver equivalent of "fishing stories", you can alway slip across to Margaritaville for a late bite and drink. Just don't forget where the Captian parked the boat. 🙂
Heading Home
Saturday is goodbyes. There is a continental breakfast available until they kick you off the boat. Get up early, have your coffee and a bagel, then pack your grip and get ready to disembark. There is a signup sheet for taxis to the airport. We signed up for a Noon pickup and at 12:15, the Captian came out and just hailed one for us because our scheduled driver failed to appear. Taxis are plentiful on Georgetown so even if you don't schedule one, hailing one to the airport should not be a problem.
The Airport
Departing Grand Cayman is a lot more challenging than arriving. When your taxi arrives, a porter should meet you and offer to take your bags for you. Unless you are familiar with Owen Roberts International Airport and the procedures, I strongly recommend you allowing them to help you. The tip you give them will be an investment in your sanity. The will take you directly to your airport's check-in desk and drop your bags. This sounds simple but on most weekends, the security line winds throughout the airport. Knowing where to go and when is very important and the porters help you do that.
Once you have checked your bags, get in the Security line from hell and wait. It moves pretty fast, we only had to wait about 15-20 minutes total but since it snakes outside, it's a hot and sweaty 15-20 minutes. Honestly, though, you will appreciate the quiet of the security line once you get through it and enter the Departure Lounge. The Departure Lunge is mayhem during a weekend. We were there over the New Year holiday and were traveling back on the Saturday after New Years Eve. Once we entered the Departure Lounge, we found that there wasn't a seat to be had. The place was wall to wall people. The line for the one snack bar was easily 30 minutes long and snaked up past many of the gift shops. If you arrive early, your best bet is to troll till you find a seat and then just be patient.
The Games That People Play
We flew in and out via American Airlines. American's gates are on the left side of the
"Departure Tent", and thankfully, their two gates were in view of our seats. One of the things that I did was purchase "Boarding Group 1" so I could make sure and get my rollaboard in the overhead compartment. The problem is that there is such a mass of people that getting into position is difficult. The "Departure Tent" is a large tent they have added where the gates used to be. it is airconditioned and there is even some seating in it if you can't find any other. There is a small gap between the building and the tent. I recommend that if you are boarding early (Priority or Group 1) that about 15 minutes before your flight is scheduled to board, you move into this gap. Then, once they put your flight up on the monitor for your gate, you are in a much better position to get into position for your flight. I know it's a bit cheesy but if you don't, you may not be able to board with your group, because you can't get there.
Also, remember, everybody is in this hell with you. Don't be rude, even to the jackass who is rude to you. Just roll with it, it's 2 hours of your life. 🙂
Once on board your flight, settle in and be prepared for a bit of melancholy as your dive vacation is now behind yu and all you've got in front of you is rinsing your gear.
Final Thoughts
The Cayman Aggressor is a great experience. I can't recommend it enough to any diver. The crew we had was awesome, and there was only one time where I had a problem and a crew member didn't step up and fix it. (In that one case,  Captian Andi very quickly stepped in and fixed the situation for me.)  The crew you have will make or break the experience and I am confident that the crew on your Aggressor will make it wonderful for you as well.
There is one more thing though, I strongly recommend that you go with a group. Yes, you can book your own cabin via the Aggressor website, but diving with a group is a much better experience. We no longer live in Nashville, TN – where Island Hoppers Scuba is based – but we do still dive with them. We know many of the people, we've dove with them before, and we are all friends. If you have a local dive shop that arranges trips, get involved with them. If you don't, visit Island Hoppers Scuba and get on the list for one of their many upcoming trips. You won't be sorry, this fat boy wasn't.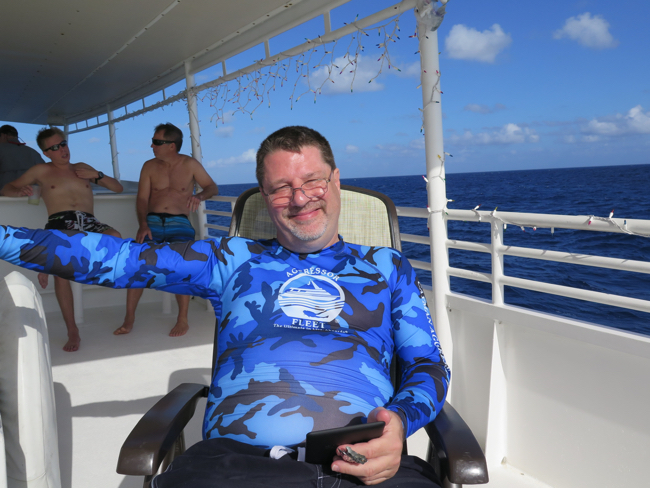 Photo Credits:
Spotted drum